Inventory Trailers Delivered Fully Stocked and Customized To Your Jobsite Needs
Producers Supply Co
On-Site
Inventory
Trailers
The Ultimate Convenience for your Job Site
As part of our dedication to being your leading oilfield supply company, we are committed to providing a total package solution to our clients. We have dedicated staff to manage our on-site inventory trailers to ensure we provide a service of continued value.
These trailers are able to be stocked with custom inventory based on your specific needs. With the ability to tailor the supply based on the demands of each job site, you can have whatever you need or might need at your fingertips.
At PSC, we know the energy industry operates 24/7/365, and with our on-site inventory trailers, we ensure you have the parts and tools that keep you up and running around the clock.
Only From PSC
Custom Inventory
Based On Your Job Site Needs
Having a fully customized inventory at your fingertips can change the way you work. Frustration becomes convenience and delays become continued productivity. Get in touch with PSC today, and we'll help you put together the inventory you need and park it directly on your job site.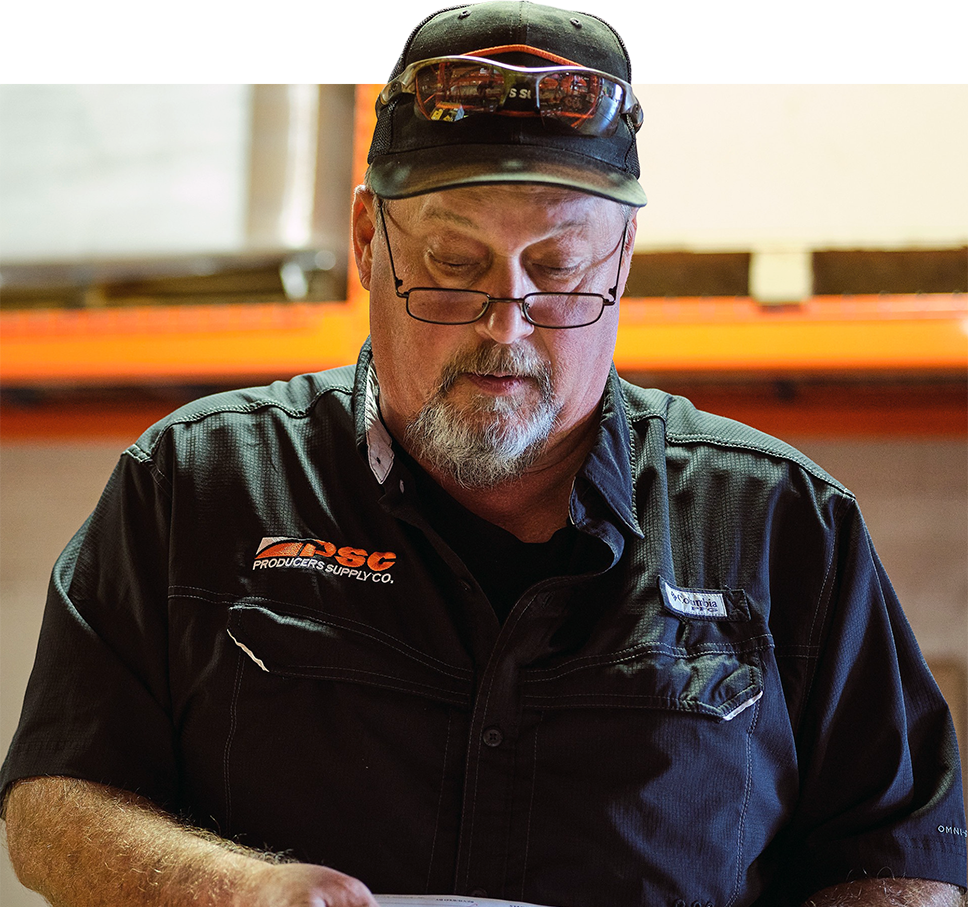 How Does It Work?
Tell Us What You Need
Our On-Site Trailers can be tailored to provide the exact inventory you need at your location. Allow our team to better understand your obstacles and then customize a plan specific to your needs.
Tailor Your Inventory
Our team will work closely with you to ensure we provide the right products and supplies for your specific jobsite. Our team then updates and maintains your requested inventory within the trailer to ensure you have exactly what you need and when you need it.
Choose Your Trailer Size
Once our team understands the inventory needs for your jobsite, we will help select the appropriate size trailer to accommodate your supplies and location. Our on-site inventory trailers are all retrofitted to allow for convenient organization and storage. Our fleet includes:
53′ Trailers
48′ Trailers
18′ Box Trailers
Consignment Boxes
Schedule Delivery
PSC will coordinate and deliver a fully stocked trailer to your jobsite, while also working directly with you to maintain the required ongoing inventory.
Why Us?
On-Site Inventory
Trailer Advantages
At PSC, we are continuously working to find ways to tailor our services to the needs and demands of our customers to ensure we are being the most valuable partner to your operations. Our on-site inventory trailers provide the convenience, efficiency and reliability you depend on.
Custom inventory to suit the needs of your job site
Ongoing supply management from the PSC team
Protect your inventory from the weather conditions
Operate with confidence knowing everything you need is already on-site
Delivery to and from your jobsite