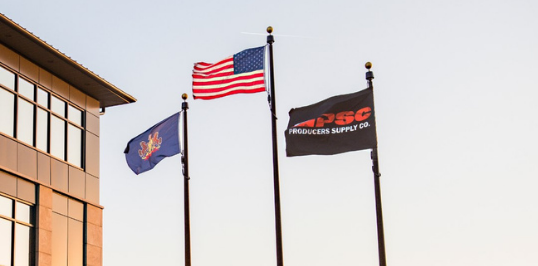 Putting the right people and the right products in the right place is a fundamental value of Producers Supply Company. Having the right products means partnering with companies that value their customers as much as we do. When thinking about your next drilling project, a valve has to be at the forefront.
A drill pipe float valve or non-return valves are downhole safety valves that create barriers to prevent unwanted flow of fluid up the drill string. The valve locks down the flow of fluids while the crew at the rig floor are making and breaking connections. The float valve detects elevation changes in the liquid-free surface and opens or closes accordingly. This makes for an essential tool for consistent fluid control throughout drilling.
Keystone Energy Tools understands the critical requirements of the oil and gas industry, much like ours, and have designed their technology to meet and exceed API standards. Manufactured for today's increasingly harsh drilling environment, all of their cages are cast out of alloy steel and are heat-treated to a hardness equal to or less than 22 Rockwell. Even the spring options are high alloy, suitable for sour gas applications, and significantly more resistant to corrosion. We understand that you have choices regarding oilfield supplies, which is why we use our experience, knowledge, and dedication to explore all partnerships presented, making Keystone Energy Tools an obvious choice.
With an unwavering commitment to quality and product improvement, Keystone Energy Tools is always the right selection. As the first drill pipe float valve manufacturer to offer a certified, pressure-tested float valve, we are confident that this is a prime solution for your drilling needs. Keystone valves also provide significant interchangeable parts to work with other major manufacturers' parts that PSC offers as well. We have all the necessary information on the different types of drill pipe float valves, including plunger-type and flapper-type valves for both standard and high operating pressures, to determine which solution best suits your needs.
Producers Supply Company ensures that a dedicated employee will be able to answer the phone 24-hours a day, seven days a week. This is not only to provide a level of customer service that allows us to separate ourselves from other distributors but also to answer any question that you may have. Whether you are looking for valves, chemicals, or hoses, we are ready to be your on-call supplier. We are partnering with the best manufacturers like Keystone Energy Tools, to offer you the best products to ensure your employees' safety and assist in making your next project go as smoothly as possible. Call or visit us today and see how quickly we will become your trusted partner and preferred supplier.
We look forward to working with you!